Sustainable and green technologies in the building industry are being embraced by residential and commercial owners and builders, as well as being phased into construction codes. As these technologies become more practical and commercially viable, architects are embracing a more systems-built approach in the name of increasing efficiency and decreasing liability. Today, the required legal, technical, and cultural knowledge base has such a broad scope that it is no longer in the best interest of the project for one discipline to hold and be responsible for all building-related knowledge. Professional liability insurance companies encourage architects to limit their roles and utilize suppliers and manufacturers that best understand assemblies of standard systems.
Superior Walls provides a green-approved, systems-built, code-compliant foundation system that architects can utilize for residential and commercial projects. Superior Walls foundations are steel reinforced, have 5,000+ psi concrete walls that eliminate any need for additional damp proofing, have standard R-12.5 insulation in the pre-studded walls, and are ready to finish and carry a 15-year warranty. Most foundations are installed in less than a day, saving time and money on labor costs, as well eliminating on site clutter and debris. Superior Walls have been green approved by the National Association of Home Builders. Architects will lead the industry in the "going green" movement that is sweeping the world. In order to build sustainable homes that heat, cool, protect, breathe, and satisfy homeowners and building codes, builders and architects will embrace new technologies, and existing proven green-approved products such as Superior Walls foundations.
Building green does not always have to be more costly on the front end. Architects and builders have begun to recognize the financial benefits of using a system-built approach. As architects and builders have examined the time and money saving advantages of Superior Walls foundations, many have adopted Superior Walls as their foundation of choice. This is part of the movement that has resulted in designs that fit the sustainable but beautiful new approach to building.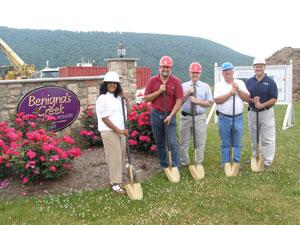 Green approved by NAHB gives points toward National Green Building Certification.
The system built approach relieves liability as Superior Walls has a 15-year warranty.
Energy efficient to provide sustainable savings throughout the life of the home.
Installs in less than a day by a certified crew and building can begin immediately.
Saves time in design as there is no need to draw in all the varying aesthetic effects of a coursing pattern as with block foundations.
Superior Walls are ready to finish adding valuable, warm, and dry living space.