More builders use Superior Walls foundations as a standard feature in their building package. Whether you're a builder of stick built million dollar mansions, multifamily homes, modular, log homes, or doublewides a Superior Walls foundation gets your project off to a fast start and adds valuable extra square footage that is very appealing to the home owner.
The combination of reduced time, more efficient and affordable construction cost and reduced dependence on subcontractors are some of the primary reasons builders see Superior Walls foundations as the superior way to build.
Dry
Superior Walls are precast wall panels that have a minimum 5,000+psi concrete with fiber mesh reinforcement. The walls are warranted for structural defects and side wall, groundwater penetration.
Energy Efficient
Dow® StyrofoamTM insulation is built into the Xi (X-TRA Insulation) wall to provide an insulation value of R-12.5. Additional insulation may be site-installed, following builder guidelines.
Custom Designed
Superior Walls are built to virtually any architectural style; to include details such as window and door openings, beam pockets and brick ledges. The walls are available in 4', 8'2", 9', and 10' heights.
Year Round Building
Superior Walls foundations are manufactured in a climate-controlled facility and delivered directly to your job site. Typically, walls are installed in less than one day by certified crews. Superior Walls can be installed all year regardless of most weather conditions.
Ready To Finish
Superior Walls are pre-engineered with access holes built in for ease of wiring and plumbing and no additional framing is needed. The galvanized steel stud facing is laser- leveled to be plumb, level and square and ready for drywall finishing.
Superior Walls saves labor cost when installing, labor cost when finishing, energy cost with cooling and heating your home and adds valuable living space. More builders use Superior Walls as a standard feature in building today.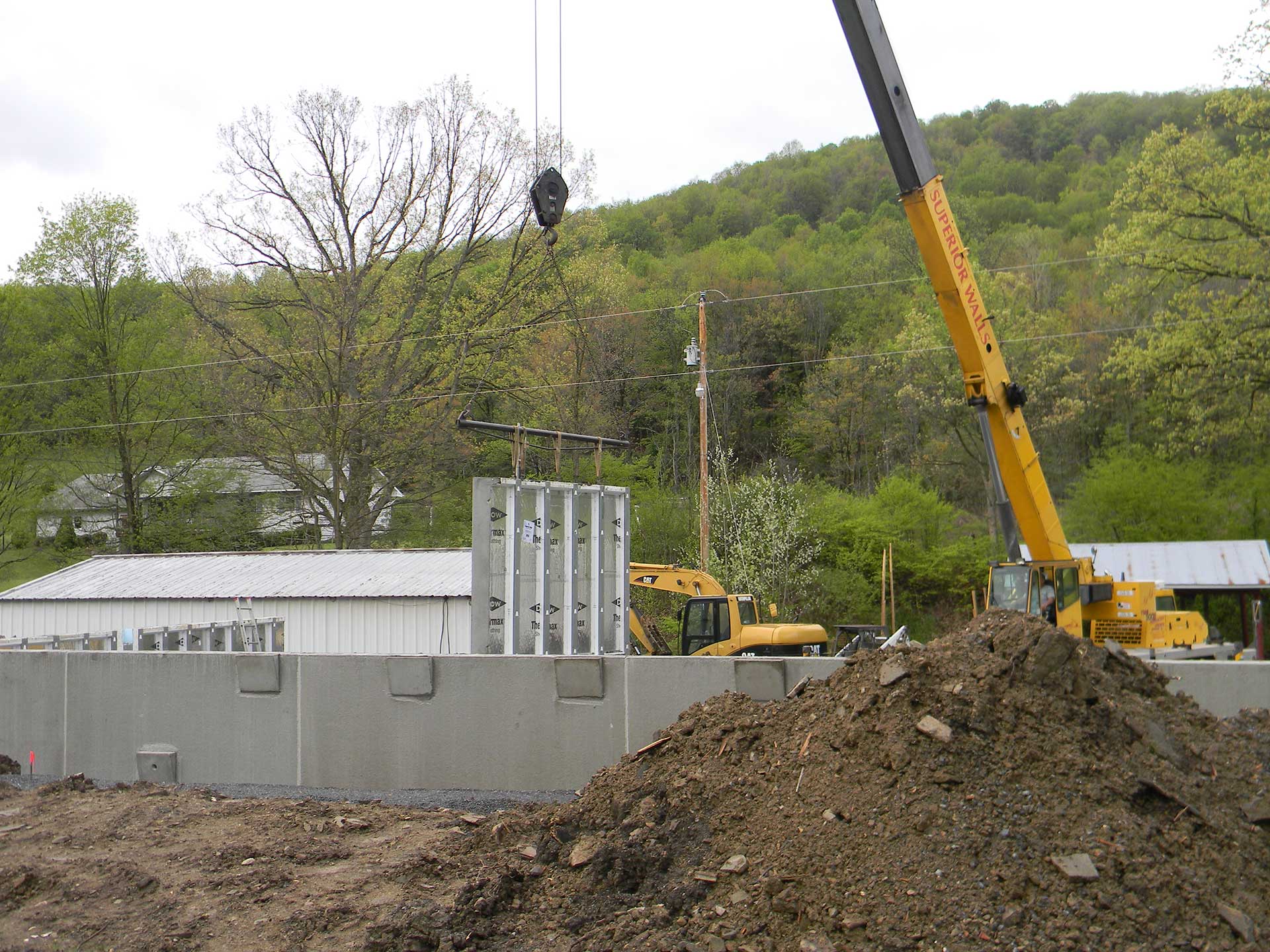 At Superior Walls we hope that this Design Professional website will become a must-stop when it comes to designing a truly SUPERIOR foundation. At last, a foundation worthy of carrying your client's most prized possession, their home.
All the resources that design professionals need for Superior Walls design are now in one convenient place, www.superiorwalls.com/designpros. Upon entering this site, you will gain access to an online database that includes downloadable Architectural Section / Detail CAD Drawings, an informative list of Design Considerations, Superior Walls Product Specifications, and much, much more.
Please take a few moments to "Create A New Account" with us at Superior Walls. We are committed to providing you with the design tools you need for your next Superior Walls project. We promise to update our site regularly in our continuous pursuit of excellence. Thank you, and please remember to visit often.
Click the button below to leave Advanced Concrete's website and go to our Design Professional website.